Gaza authorities: Israeli strike killed 41 from one family
Palestinian Red Crescent, UN evacuate 31 premature babies from Al-Shifa Hospital
At least 13,000 Palestinians have been killed and 30,000 injured in Gaza since the conflict between Israel and Hamas
GAZA   (  Web  News  )
The health ministry in the Hamas-ruled Gaza Strip on Sunday said 41 members of one family were killed in an Israeli strike on their home in Gaza City.
The ministry released a list of names of 41 members of the Malka family it said were killed by the strike at dawn in the city's Zeytoun district.
Fierce fighting between Israeli troops and Palestinian militants occurred in the neighborhood in the morning, according to an AFP journalist.
At least 13,000 Palestinians have been killed and 30,000 injured in Gaza since the conflict between Israel and Hamas started on October 7, Gaza's government media office said on Sunday. At least 5,500 of the dead are children and 3,500 are women, the statement added.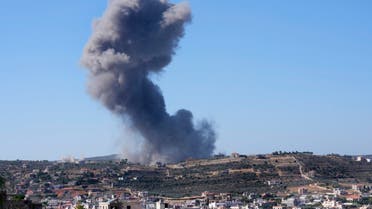 Israeli army strikes Hezbollah targets in Lebanon, 10 mortar shells fired at Shlomi
The Israeli army said on Sunday its warplanes struck and destroyed Iran-allied Shia militia ezbollah's infrastructure in Lebanon.
"Approximately 10 mortar shell launches toward the area of Shlomi in northern Israel were identified. The launches fell in an open area. The IDF is responding with strikes toward the source of the launches in Lebanese territory," the Israeli army said in a statement.
It added that Israeli army fighter jets struck Hezbollah "terror infrastructure" in Lebanon.
Earlier on Sunday, the Israeli army said: "Fighter jets and tanks struck a number of Hezbollah terror targets in Lebanese territory, including terror posts and military compounds. Simultaneously, an IDF UAV struck an additional terrorist cell."
Furthermore, on Sunday, the Israeli army said: "Following the report regarding sirens that sounded in northern Israel, a suspicious aerial target that crossed from Lebanon was successfully intercepted by the IDF Aerial Defense Array."
It added that the Israeli military was responding with fire toward Lebanon.
Palestinian Red Crescent, UN evacuate 31 premature babies from Al-Shifa Hospital
The babies were transferred to the south of Gaza "in preparation for their transfer to the Emirates Hospital in Rafah" the group added.
Later in the day Ashraf al-Qidra, spokesperson for the Health Ministry in Hamas-controlled Gaza, told a news conference that the babies had been moved to Tal Alsultan Hospital in Rafah and will be sent to Egyptian hospitals with their families tomorrow.
The WHO team said earlier Sunday that 291 patients were left at Al-Shifa after Israeli troops had others evacuate. They included the babies in extremely critical condition , trauma patients with severely infected wounds, and others with spinal injuries who are unable to move.
The team was able to tour Al-Shifa Hospital for an hour after about 2,500 displaced people, mobile patients and medical staff left the sprawling compound Saturday morning, the WHO said. It said 25 medical staff remained, along with the patients.
"Patients and health staff with whom they spoke were terrified for their safety and health, and pleaded for evacuation," the agency said, describing Al-Shifa as a death zone. It said it hopes to evacuate patients to southern Gaza, where hospitals are also overwhelmed.
Israel has long alleged that Hamas maintains a sprawling command post inside and under Al-Shifa . It has portrayed the hospital as a key target in its war to end the militants' rule in Gaza following their wide-ranging attack into southern Israel six weeks ago, which triggered the war.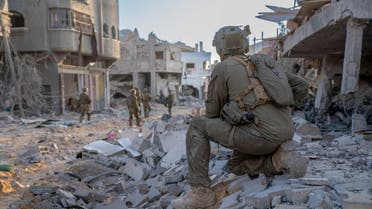 The Israeli army said Sunday five more soldiers had been killed in fighting in the Gaza Strip, raising the number of troop deaths there to 64 since the war began.
All five died in northern Gaza, where its forces are engaged in a ground operation against Hamas militants, the military said. Three reservists were killed on Saturday, with another reservist and a conscript killed on Sunday, it said in two separate announcements.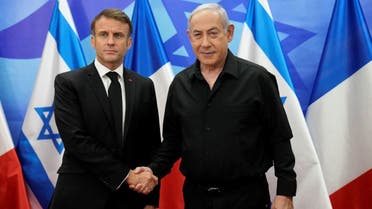 Macron tells Netanyahu 'too many civilian losses' in Gaza, urges truce
Israel has vowed to destroy the Palestinian militant group after it carried out the deadliest attack in the country's history on October 7.
About 1,200 people, mostly civilians, were killed in Israel during the attack and around 240 taken hostage, according to Israeli officials.
The retaliatory Israeli air and ground campaign has killed 13,000 people in Gaza, mainly civilians and including thousands of children, according to the territory's health ministry.
Macron, whose country is a firm ally of Israel, reminded Netanyahu of the "absolute necessity to distinguish terrorists from the population" and "the importance of achieving an immediate humanitarian truce leading to a ceasefire."
Macron also condemned violence against Palestinian civilians in the West Bank in a conversation with Palestinian president Mahmoud Abbas, the French presidency said.
The French leader told Netanyahu about his "great concern over the escalation in violence against Palestinian civilians" in the West Bank and called for calm.
The Houthis, an ally of Tehran, have been launching long-range missile and drone salvoes at Israel in solidarity with the Palestinian Hamas militants it has been battling in the Gaza Strip since October 7.
Last week, the Houthi leader said his forces would make further attacks on Israel and they could target Israeli ships in the Red Sea and the Bab al-Mandeb Strait.
There was no immediate comment from the Houthis, but earlier on Sunday, Yahya Sarea, a spokesman for the Iran-backed Houthis, had said that the group would target all ships owned or operated by Israeli companies or carrying the Israeli flag, according to the group's Telegram channel.
Sarea called on all countries to withdraw their citizens working on the crews of any such ships.
Israeli Prime Minister Benjamin Netanyahu's office said a ship – which it did not name – had been seized, and stressed that Israel was not involved in its ownership, operation or the make-up of its international crew.
"There were no Israelis on the ship," it said.
"This is another Iranian act of terrorism that represents an escalation in Iran's belligerence against the citizens of the free world, with concomitant international ramifications vis-a-vis the security of global shipping routes."
A US defense official told Al Arabiya English: "We're aware of the situation and are monitoring it, closely."
The Israeli military said in an earlier statement that the Houthis had seized a cargo ship in the southern Red Sea as it was sailing from Turkey to India, calling it "a very grave incident on a global level."
"The ship departed Turkey on its way to India, staffed by civilians of various nationalities, not including Israelis. It is not an Israeli ship," the Israeli military said in a social media post.