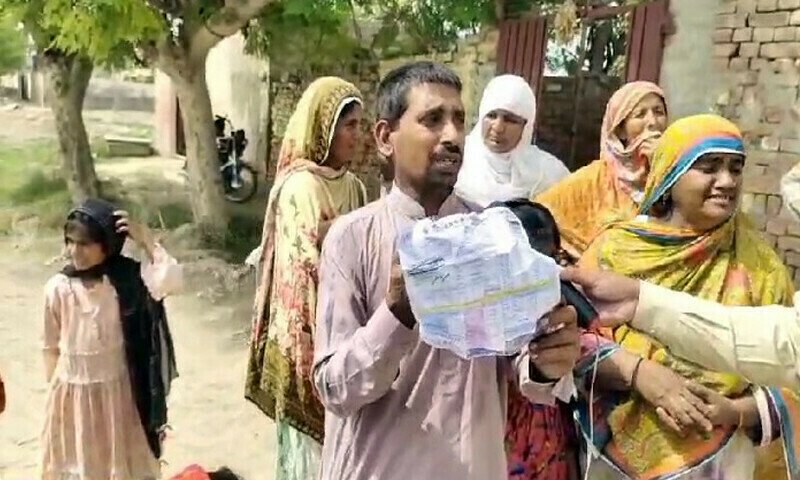 An Inflated Bill Ruins A Family As A Mother Commits Suicide Inflated Bill
MULTAN/ISLAMABAD  ( Web News )
An Inflated bill took an ugly turn on Monday when a mother of four committed suicide. The mother of four kids belonged to a poor family that received their electricity bill beyond their financial capacity to pay it.
The two days of hunger in the family followed by the tormenting payment of the bill of electricity left the mother of four children with no other choice but to get rid of this world by committing suicide.
People look at the dead body of the wife of Qasim. An inflated bill ruined a family.
Qasim, a resident of a village in Jahanian, Khanewal, is a laborer. He hardly earns 400 rupees a day _ equal to Rs 12,000/- in a month. He received a Rs 10,000 bill of electricity that ruined his family. Qasim borrowed the money from wherever he could to pay the bill.
According to Qasim, his children were hungry for the last two days as the payment of the bill left no cash with them. Resultantly the wife of Qasim could not bear the hunger of her children and she took poisonous pills and ended her life.
She was rushed to the hospital when the family discovered her suicide attempt. However, doctors could not save her life and declared her dead. Aaj TV published this tragic news today.
Qasim is a resident of Chak 114/10R in Jahanian, Khanewal. Qasim said that despite the payment of the bill, officials of the Multan Electric Supply Company (MEPCO) did not restore their electricity. Qasim and his family members are living in a dilapidated house with no luxury of life.
Earlier, the MEPCO officials disconnected their power supply over non-payment of the bill. Qasim borrowed money and paid the bill, but the MEPCO officials did not restore their electricity. The double shock _ hunger and the disconnection of electricity proved fatal for the family as the wife of Qasim ended her life.
The tragedy occurred at a time when the whole country has been protesting against massive hikes in electricity bills.
Thousands of protesters have come on roads and streets to voice their anger over their unprecedented exploitation through the IMF-dictated electricity bills.
Who is responsible for this tragedy? Why did the MEPCO officials not restore electricity on time after payment of the bill? What would happen to thousands of families who cannot afford the expensive and tax-laden electricity? The rulers must look into these aspects to avert any large-scale tragedy in the country.